Sofort versandfertig, Lieferfrist 1-3 Tage
Our dental care and cleaning powder with natural ingredients contributes to your dog's dental health - against plaque and tartar and is also effective against bad breath - without toothbrush.
HEALTHY TEETH: Our dental care and cleaning powder Oral Vital contributes to the dental health of your dog. At the same time, it is also effective against bad breath - without a toothbrush or toothpaste.
HIGH VALUE CONTENTS: Seaweed flour, parsley, apple and spirulina algae, enriched with vitamin C, sodium bicarbonate and diatomaceous earth, act naturally and without preservatives.
LESS IS MORE: We do not like artificial chemicals at all and therefore leave out everything that does not need to be pure!
SCIENTIFICALLY BASED: Oral Vital is scientifically tested and was developed in cooperation with veterinarians.
MADE IN GERMANY: Made with love in Germany and quickly delivered to you without detours.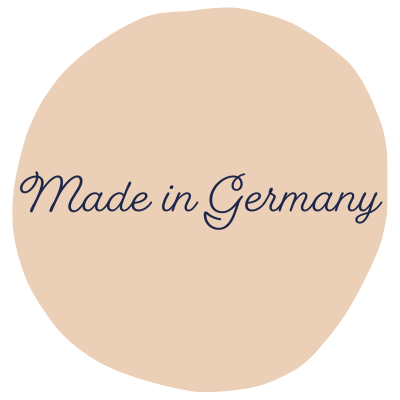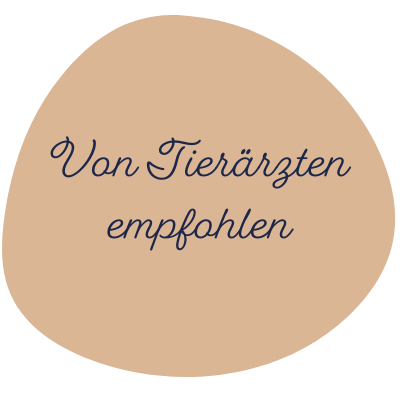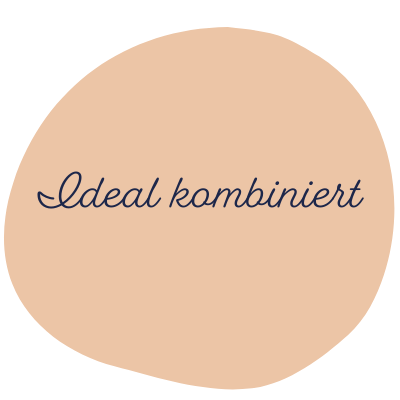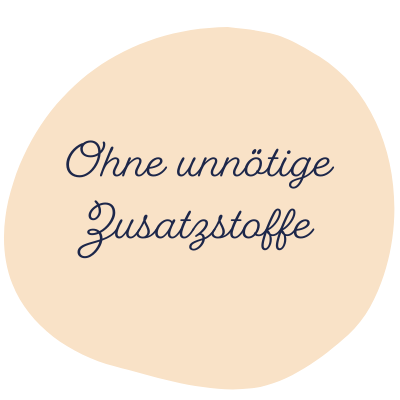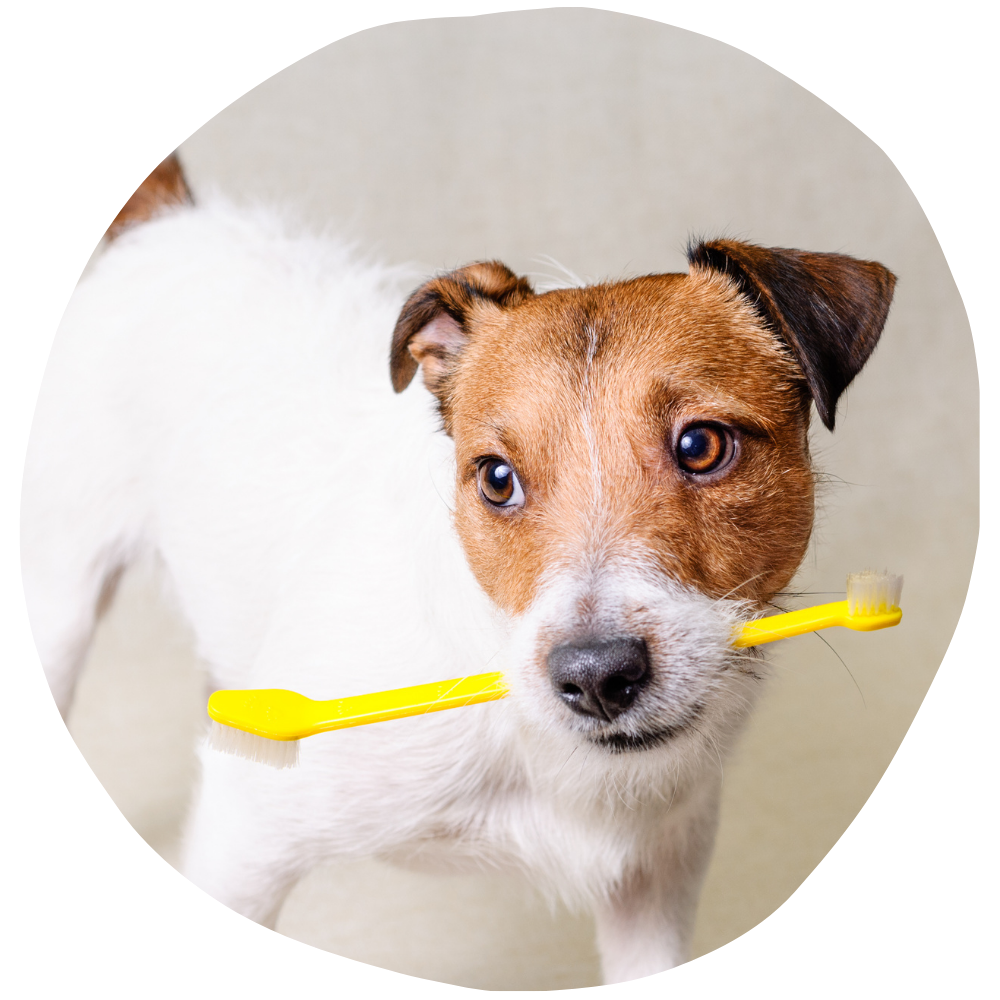 Dog dental care
"A bit of bad breath - that's normal for dogs" Jain, it's not quite that easy. Of course, our four-legged friends don't necessarily smell like fresh mint coming out of their mouths, but a distinct ¨bel smell can be a first sign of dental diseases. By the way, a lot of dogs suffer from dental diseases – from the age of six years onwards, as many as 80 % do.
The treatment of periodontitis and the like is problematic, because dogs usually have to be put under anaesthesia. And that is not only an ordeal for the four-legged friend, it also hurts the wallet. It is better to ensure healthy teeth in good time. This is easy to do with our Oral Vital powder.
Safe is safe
With Oral Vital cleaning and dental care powder, oral hygiene for your furry friend is child's play – without the need for a toothbrush or toothpaste. The ingredients actively combat tartar, plaque, plaque and discolouration. And there's no more nasty bad breath either. Yay!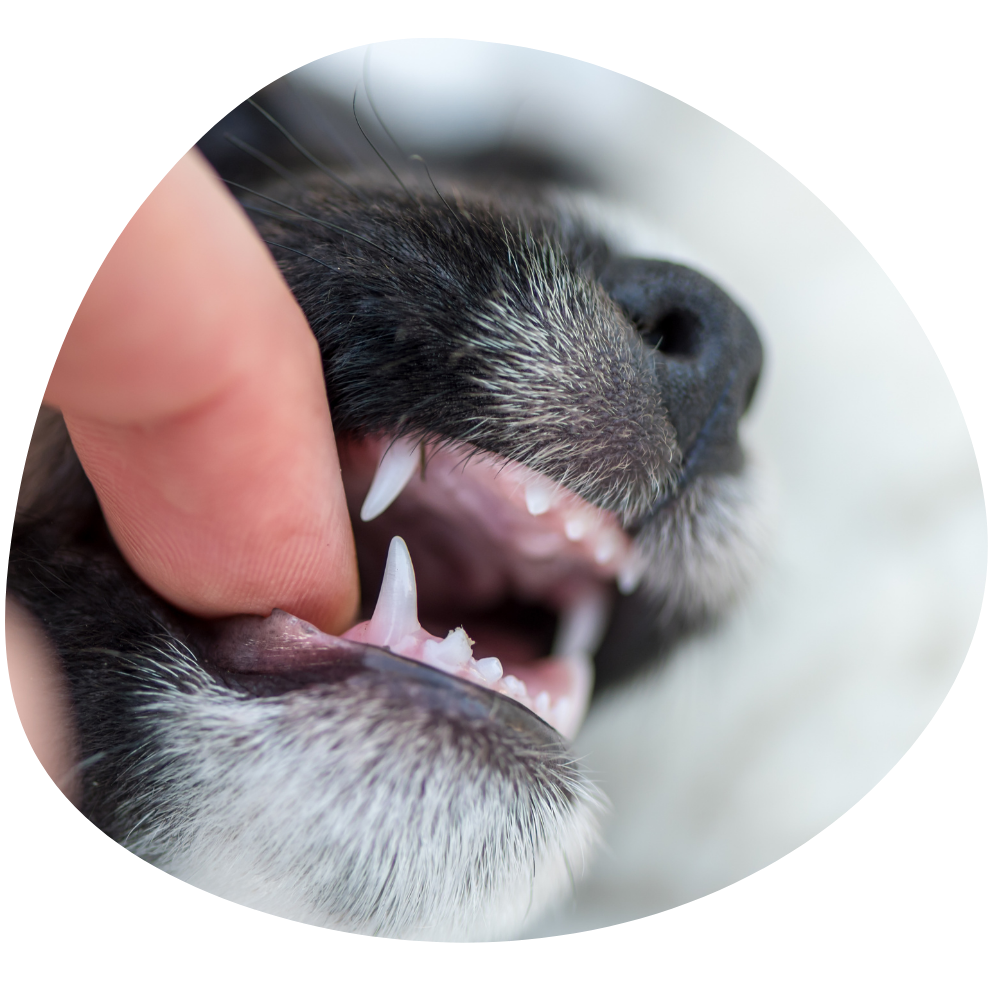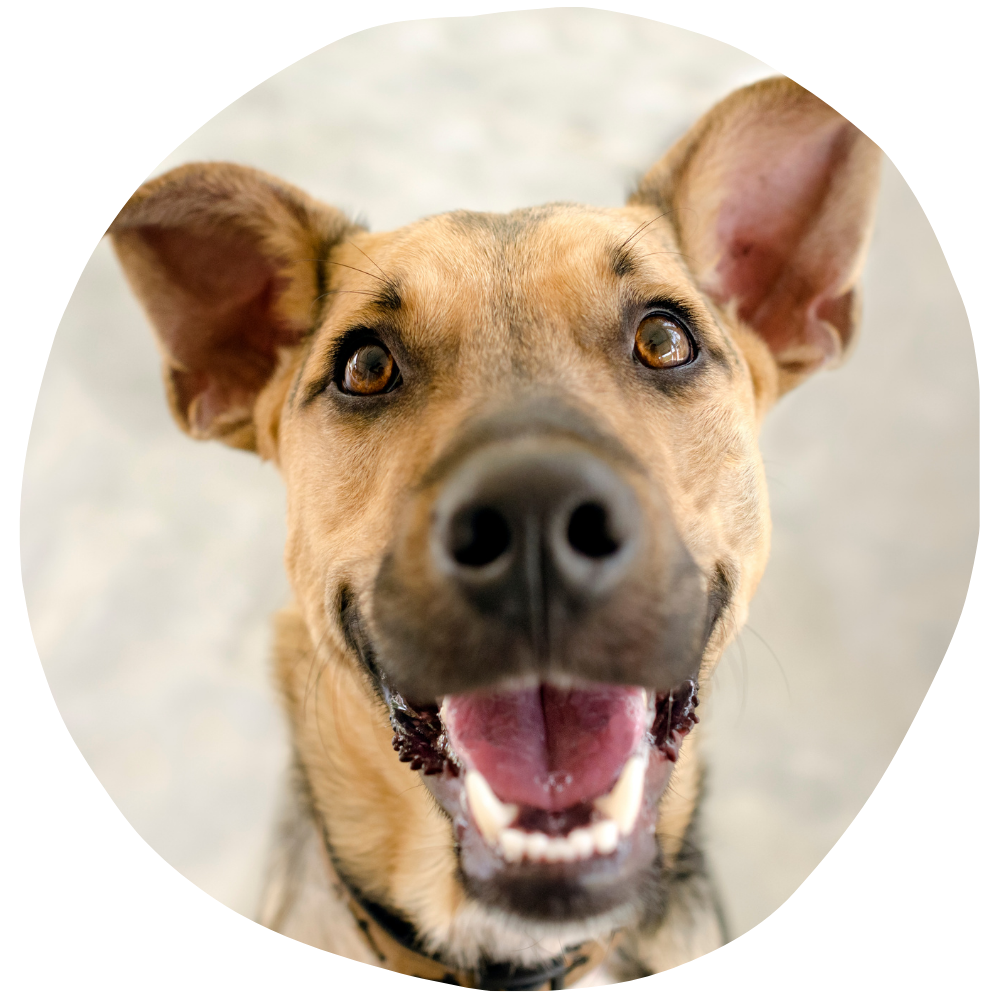 Dental care against bad breath
Thanks to peppermint and parsley, our Oral Vital also helps against your dog's bad breath. Both provide fresh breath and also have a supporting antibacterial and anti-inflammatory effect.
Natural dental care for dogs
The best thing: All ingredients are completely natural and really good for your dog's teeth and gums. The ideal mix of eggshell powder, parsley, seaweed flour, peppermint and spirulina algae, enriched with vitamin C, sodium bicarbonate (baking soda) and natural diatomaceous earth for your dog's natural dental care. Swallowing is absolutely desirable.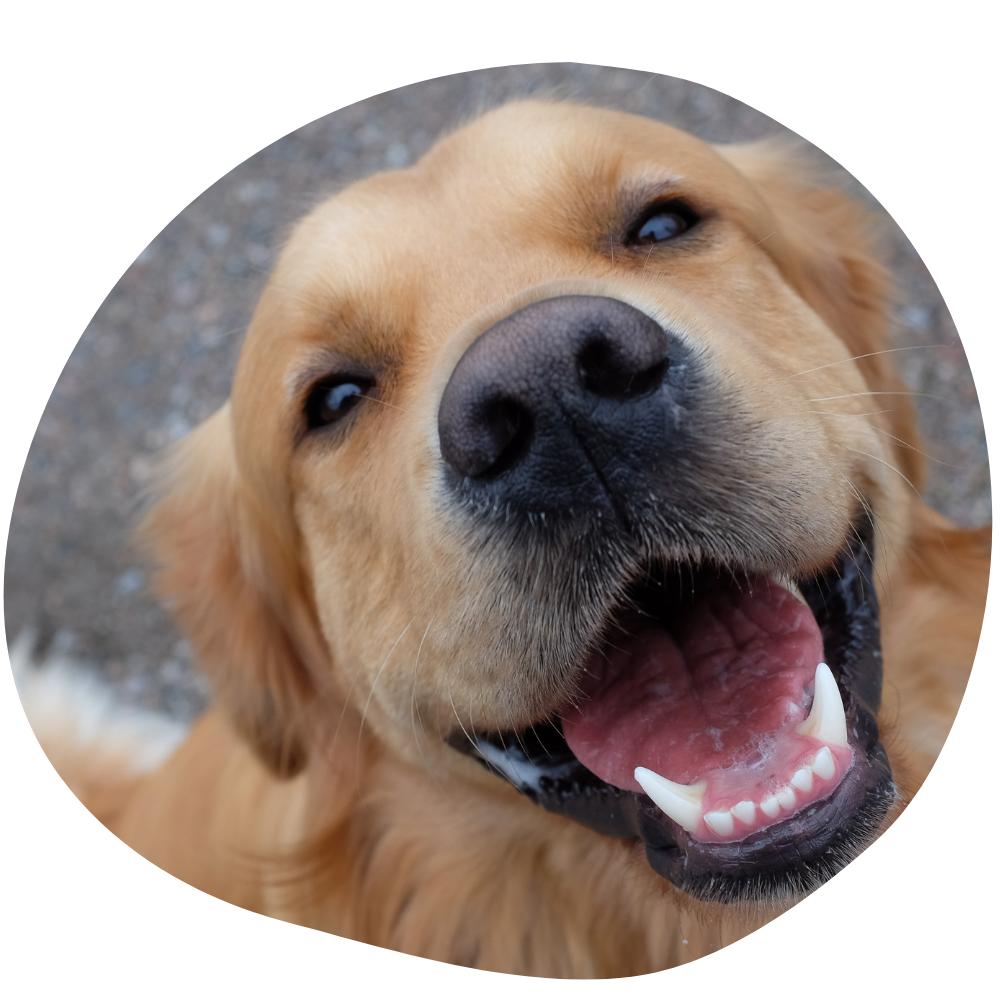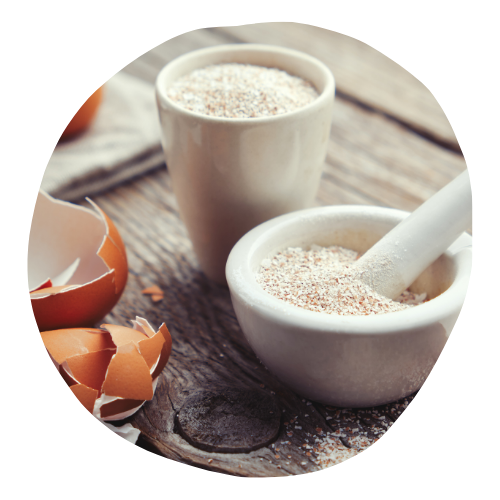 Egg shells provide the important mineral calcium, which is essential for the stability of teeth and bones.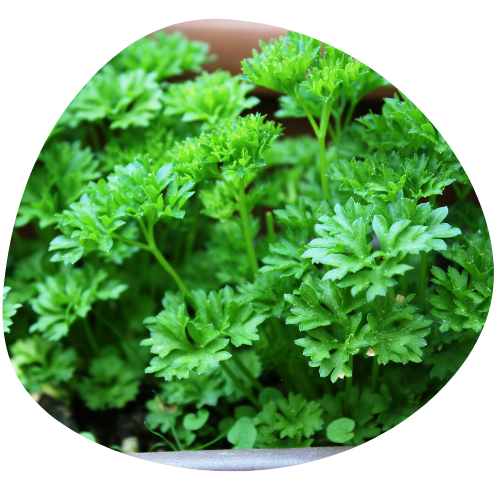 Parsley freshens the breath and has an antibacterial and anti-inflammatory effect. Bye bye bad breath.
Seaweed is great against plaque and discolouration because it gently cleanses the teeth and, thanks to its high iodine content, is also good for the thyroid glands.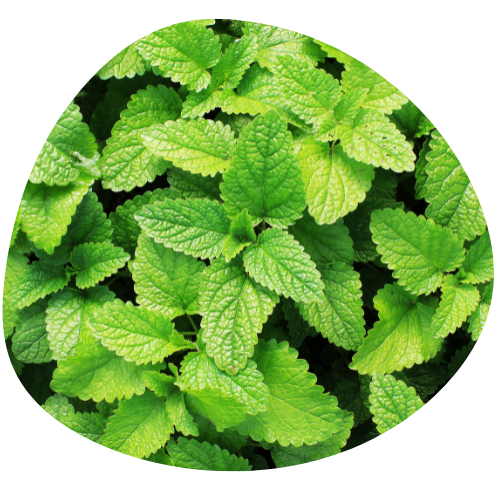 Peppermint freshens breath, binds odours and actively combats bad breath.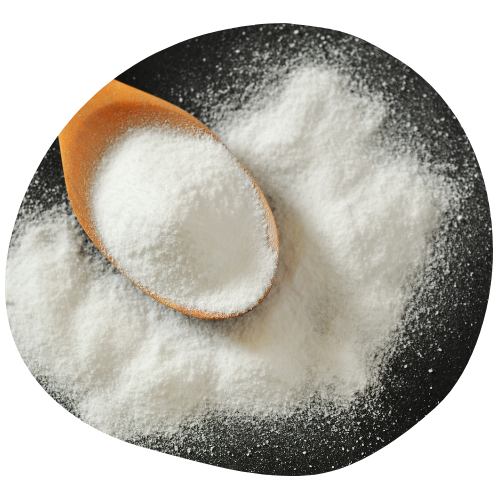 The added sodium bicarbonate is not only popular in toothpastes for humans, it also has an exfoliating effect on dogs and removes dirt.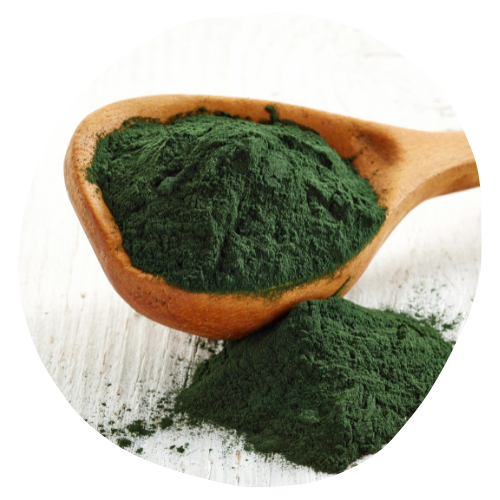 Spirulina algae strengthens bones and teeth and is also effective against bad breath.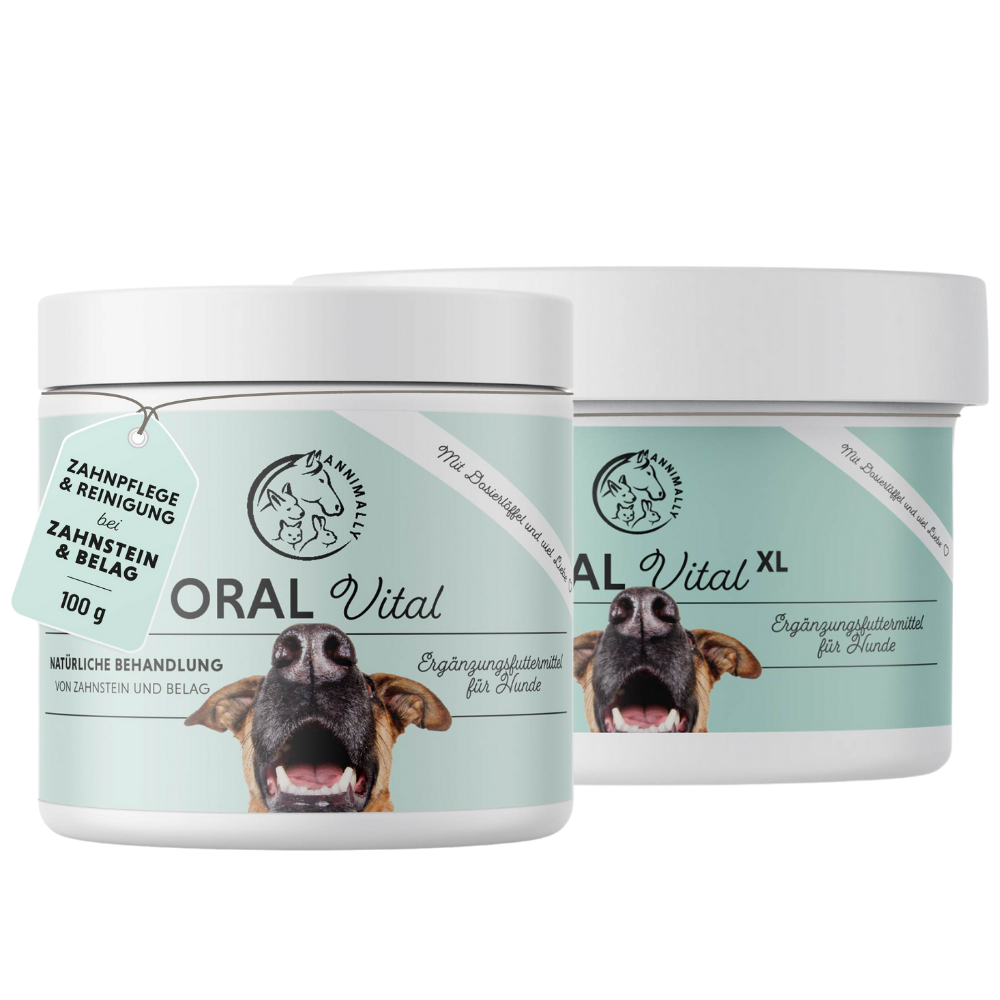 To make it easy for you, you get a matching mini dosing cube with each pack. It holds 1 g. For every 10 kg of body weight, you feed one mini cube daily. If your dog weighs 20 kg, he will receive 2 dosing cubes. You can simply mix the powder into the food.
Composition of the dental care product
At Annimally, we pay special attention to high-quality ingredients. That way you only get the best for your pet.
Ingredients Oral Vital
Egg shell powder, parsley fines, seaweed meal, peppermint leaf, sodium bicarbonate, spirulina
Additives per kg:
Vitamins, provitamins and chem. defined substances with similar effect: vitamin C (3a300) 3,500 mg, binder: diatomaceous earth, purified (E551c) 50,000 mg
Analytical constituents and contents:
Crude protein 12.7 %; crude fibre 2.7 %; crude fat 1.4 %; crude ash 52.0 %; salt & acid 5.5 %; calcium 15.8 %
Feeding advice:
The iodine content is 93.14 mg/kg.
Notes
Storage
Keep the product out of the reach of small children. Please store in a dry place, away from light and not above 25°C.
What is good for dogs' teeth?
Dogs' teeth should be cleaned regularly and preferably even daily. In addition, the dog should be given special chew sticks or toys that promote the abrasion of debris. By the way, dogs can also develop tooth decay. A balanced and sugar-free diet prevents caries.
How to remove tartar from a dog?
The removal of tartar at the vet's is done in a similar way to that of humans by cleaning the teeth. For this, the dog is usually put under a light anaesthetic. The removal is usually done with an ultrasonic device.
What helps with tartar in dogs?
The best remedy against tartar is prevention. Therefore, dogs' teeth should be cleaned regularly. If tartar is already present, a vet should be consulted. There, tartar can be professionally removed and this is usually done under anaesthesia. So-called tartar scrapers, which can be used to remove tartar by yourself, are controversial.
How often do dogs brush their teeth?
It is best to clean dogs' teeth daily. It is not always necessary to use a dog toothbrush. Dental sticks or special toys for cleaning teeth can also do the job. If a dog does not allow itself to brush its teeth, various tooth gels can also help against plaque.