Our dental care and cleaning powder with natural ingredients contributes to your dog's dental health - against plaque and tartar and is also effective against bad breath - without toothbrush.
HEALTHY TEETH: Our dental care and cleaning powder Oral Vital contributes to the dental health of your dog. At the same time, it is also effective against bad breath - without a toothbrush or toothpaste.
HIGH VALUE CONTENTS: Seaweed flour, parsley, apple and spirulina algae, enriched with vitamin C, sodium bicarbonate and diatomaceous earth, act naturally and without preservatives.
LESS IS MORE: We do not like artificial chemicals at all and therefore leave out everything that does not need to be pure!
SCIENTIFICALLY BASED: Oral Vital is scientifically tested and was developed in cooperation with veterinarians.
MADE IN GERMANY: Made with love in Germany and quickly delivered to you without detours.
"A little bad breath - that's normal for dogs" Jain, it's not quite that easy. Of course, our four-legged friends don't necessarily smell of fresh mint from their mouths, but a distinct bad smell can be a first sign of dental disease. A lot of dogs suffer from these, by the way - as many as 80% from the age of six.
The treatment of periodontitis and the like becomes problematic, as dogs usually need to be anaesthetised. And that's not just torture for the dog, it's also a real pain in the wallet. Better is: Take care of healthy teeth early on. This is very easy with our Oral Vital Powder.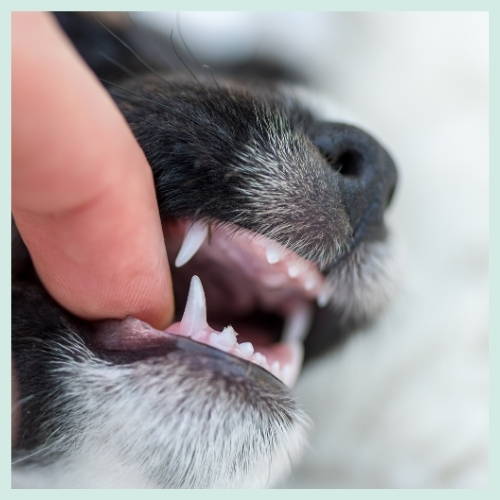 Better safe than sorry
With the cleaning and dental care powder Oral Vital, oral hygiene of the pelt-nose becomes child's play - without a toothbrush or toothpaste. The ingredients have an active effect against tartar, plaque, dental plaque and discolouration. And bad breath is also a thing of the past. Yay!
Best of all: all ingredients are completely natural and really good for your four-legged friend's teeth and gums. Swallowing is absolutely desired.
Dental care dog without cereals
Only high-quality, natural ingredients are used in our Oral Vital. A really good mix of seaweed flour, parsley, apple and spirulina algae, enriched with vitamin C, sodium bicarbonate (baking soda) and natural diatomaceous earth awaits your furry friend. But why exactly this mixture?
Seaweed is super against plaque and discolouration, because it gently cleans the teeth and, thanks to its high iodine content, is also good for the thyroid gland.
Parsley makes your breath fresher and has an antibacterial and anti-inflammatory effect. Bye bye bad breath.
"An apple a day, keeps the doctor away" - the apple contains more than 30 vitamins and is a power package against bacteria. That is why it should not be missing in Oral Vital. The spirulina algae strengthens bones and teeth and is also effective against bad breath. The added baking soda is not only very popular in toothpastes for humans, it also develops its peeling effect in dogs and removes dirt.
By the way, our Oral Vital Powder is really green and smells like algae due to its natural ingredients.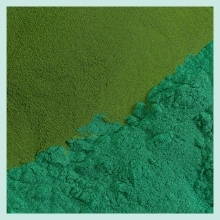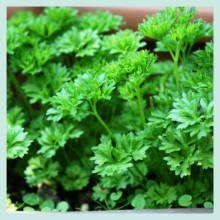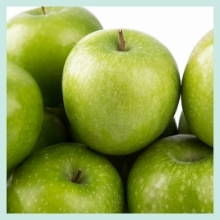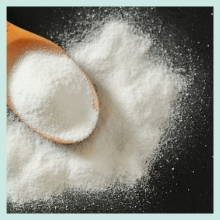 Very easy to dose
To make it easy for you, you get a matching mini-dosing spoon with each pack. You can put 1 g in it. For every 10 kg of body weight you feed one mini-dosing spoon daily. So if your dog weighs 20 kg, he gets 2 measuring spoons. You can simply mix the powder with the food.
Composition of the dental care product
We at Annimally pay special attention to high-quality ingredients. So you only get the best for your pet.
Ingredients Oral Vital
seaweed meal; parsley fines; apple pomace, sodium bicarbonate; spirulina
Additives per kg:
Vitamins, provitamins and chemically defined substances having similar effects: vitamin C (3a300) 3500 mg, binder: diatomaceous earth - diatomaceous earth, purified (E551c) 50000 mg
Analytical components and contents:
Crude protein 14,8 %; crude fibre 5,7 %; crude fat 2,9 %; crude ash 20,0 %; ash insoluble in hydrochloric acid 3,9 %
Oral Vital notes
Storage
Keep the product out of the reach of small children. Please store in a dry place, protected from light and not above 25 °C.
Frequently asked questions
What is good for dog teeth?
Dogs' teeth should be cleaned regularly - preferably even daily. Dogs should also be given special chewing sticks or toys that encourage the abrasion of deposits. By the way, dogs can also get caries. A balanced and sugar-free diet prevents this.
What helps with tartar in dogs?
The best remedy against tartar is prevention. Therefore, dogs' teeth should be cleaned regularly. If tartar is already present, a vet should be consulted. There, tartar can be removed professionally - but this is usually done under anaesthetic. So-called tartar scrapers, which can be used to remove tartar themselves, are controversial.
How is tartar removed from dogs?
The removal of tartar at the vet is similar to the removal of tartar in humans by means of dental cleaning. To do this, the dog is usually put under a light anaesthetic. The removal is usually carried out with an ultrasound machine.
How often does the dog brush its teeth?
Dogs' teeth should best be cleaned daily. It is not always necessary to use a dog's toothbrush for this. Dental sticks or special toys for cleaning teeth can also do the job. If a dog does not get his teeth cleaned, various tooth gels can also help against plaque.