Our vitamin B complex for dogs, puppies & cats is the power package with B vitamins, folic acid, vitamin K, L-tryptophan and selenium for all-round healthy dogs (including puppies) and cats. Find out now!
ALL-ROUND HEALTHY: For strong nerves, optimal digestion, muscle power and a really good metabolism.
HIGH-QUALITY CONTENTS: Selected B vitamins, folic acid, vitamin K, L-tryptophan and tasty brewer's yeast perfectly matched to each other.
LESS IS MORE: What's in it is what's on it - that's our mantra. We simply leave out the unnecessary.
Scientifically BASED: We trust experts! Our vitamin B complex was developed together with veterinarians.
MADE IN GERMANY: In no time at your home. We avoid long delivery routes.
Vitamin B Complex for Dogs & Cats
The right supply of vitamins is especially important for kitty and Bello. Our dearest fellow residents need to take in B vitamins on a regular basis. Unfortunately, B vitamins cannot be stored well by the animal body. And yet they are so important for nerve function, digestion, muscles and metabolism. If your cat or dog is well supplied with B vitamins, energy reserves can be fully utilised..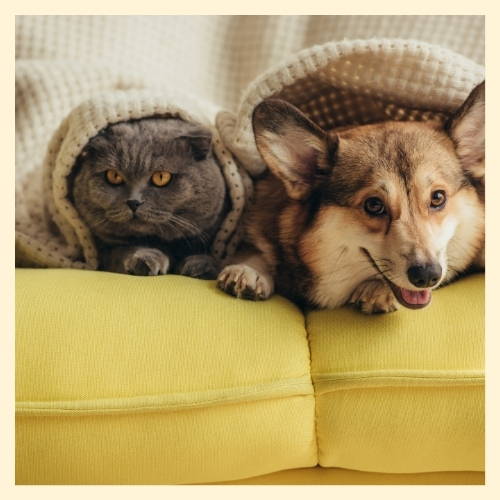 Many important B vitamins
It's not without reason that we call our tablets simply Vitamin B Complex, because all the important B vitamins are in here and unfold their power together: The vitamin B1 (thiamine) contained protects the nerves of your four-legged friend and ensures a good mood. B2 (riboflavin) supplies the central nervous system and unfolds its effect there, B2 (niacin) helps cats and dogs with energy production. Vitamin B5 (pantothenic acid) promotes fat metabolism, reduces stress and even helps the absorption of vitamins A and D. Vitamin B6 (pyridoxine) ensures full immune power and stimulates the metabolism. Vitamin B9, also known as folic acid, is also good for the immune system and reduces fatigue. Last, but not least: B12 (cobalamin) is also included. This B vitamin supports the formation of cells and red blood cells, protein metabolism and strengthens the nerves.
Vitamin B deficiency
Vitamin B deficiency has far-reaching consequences for our dogs and cats, such as listlessness, impaired vision or movement, digestive disorders, itching and more. But we'd rather not let it get that far. A regular intake of the vitamin B complex can prevent this.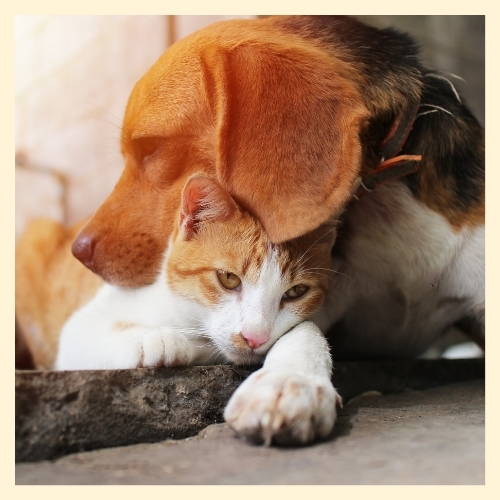 What is in the vitamin b complex?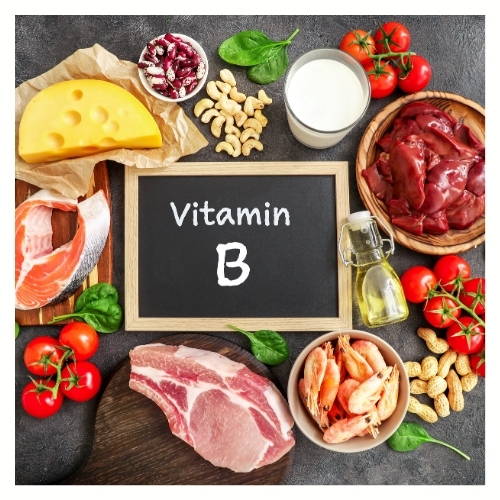 Ideal combination of vitamin B1 (thiamine), B2 (riboflavin), B2 (niacin), B5 (pantothenic acid), B6 (pyridoxine), vitamin B9 (folic acid) and B12 (cobalamin).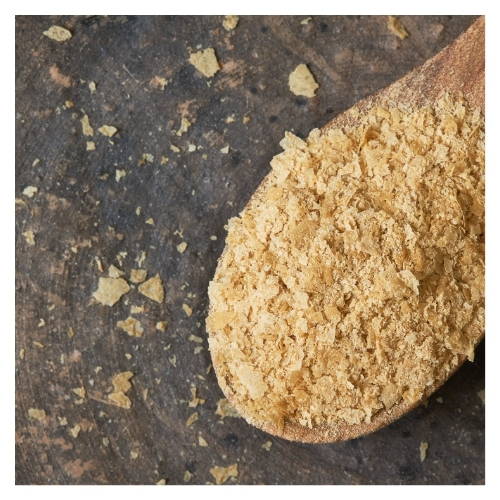 For a really good taste and an additional natural multi-vitamin boost we have added brewer's yeast, tasty!
We have also added selenium to our vitamin B complex. This trace element actively combats oxidative stress. This occurs when cells become unbalanced and is considered a trigger for many diseases.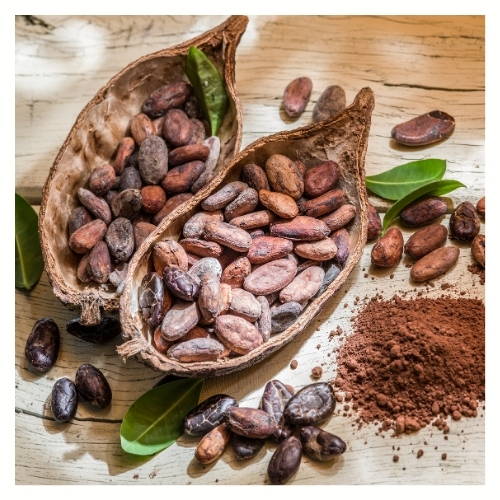 In addition, the amino acid L-tryptophan, also known as the precursor of the glucose hormone serotonin, is ideal for helping your furry friend against stress and anxiety. With this, cat and dog are sure to face the next thunderstorm calmly.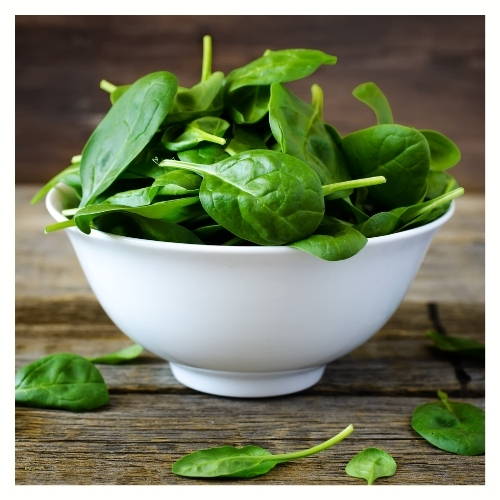 The added vitamin K promotes blood clotting and bone health.
This is how you dose correctly
.
Secret tip for tablet poopers: simply let the tablet disappear in some dog or cat liver sausage. And then, just like that, they love taking their tablets!
Usage for dogs
For dogs, the daily dose is calculated per 5 kg body weight.
Usage for cats
For every 4 kg of your cat's body weight, one tablet is given daily.
Vitamin B complex composition
At Annimally, we pay special attention to high-quality ingredients. So you get only the best for your pet.
Ingredients of Vitamin B Complex (120 pcs)
Beer yeast (inactive), apple fibre (dried), rapeseed (hydrogenated)
Additives per kg
Nutritional additives:
Vitamin B12 (cyanocobalamin) 240mg, vitamin B1 (thiamine hydrochloride) 45,000 mg, vitamin B2 (riboflavin) 14,500 mg, vitamin B6 (pyridoxine HCl) 13. 500 mg, vitamin B3 (nicotinamide) 450 mg, vitamin B5 (calcium pantothenate) 120 mg, vitamin K3 (menadione sodium bisulphite) 20 mg, folic acid (pteroylmonoglutaminsäure) 28 mg, L-tryptophan 6,800 mg, selenium from selenium yeast 0.45 mg;
Technological additives
Silicaäure 28,000 mg
Analytical constituents
Crude fat 2.8%, crude fibre 1.7%, crude ash 25.5%, crude protein 29.3%
Vitamin B Complex Notes
Storage
Store the product out of the reach of small children. Please store in a dry place, protected from light and not above 25°C.
Frequently asked questions
Why does a dog need B vitamins?
The B vitamins are a group of important vitamins that play a role in your dog's health.
Thiamine helps regulate energy and carbohydrate metabolism and activates ion channels in nerve tissue. Riboflavin, B12 and niacin help facilitate the function of enzymes. Vitamin B6 is particularly important. This vitamin is responsible for glucose formation, red blood cell and nervous system function, hormone regulation, immune response, niacin synthesis and gene activation. Pantothenic acid helps with energy metabolism. Folic acid plays a role in amino acid and nucleotide metabolism and in mitochondrial protein synthesis.
Where is a lot of vitamin B in?
Eating adequate amounts of the eight B-complex vitamins will put your dog on the path to a healthy diet. Some top sources of B vitamins are meat (especially liver), seafood, poultry, eggs, dairy products, legumes, leafy vegetables, seeds and fortified foods such as breakfast cereals and nutritional yeast.
Why does a dog need vitamin B complex?
The vitamin B complex acts as a co-enzyme that promotes biochemical reactions to convert carbohydrates into glucose and provides energy to the body. It is necessary in a dog's diet for the absorption of protein and fat.

All food supplements are made in Germany, so they are really and truly "made in Germany"

What's in it is on it! Everything that is in our products is also labelled.

To guarantee you absolute transparency, we have our products tested in an independent laboratory.
We deliberately avoid sales, discount battles on Black Friday and unnecessary marketing campaigns.
Cooperation with veterinarians

We work closely with scientists and veterinarians to bring well-dosed products to the market for your pet.
Without unnecessary additives

We rely on natural active ingredients with high bioavailability and distance ourselves from flavour enhancers, insufficient tests, unhealthy fillers and other stuff that nobody needs.

Fair dealings with suppliers as well as fair dealings with our customers are of great importance to us!

Short delivery routes and the careful use of resources are a matter close to our hearts!
Vitamin b complex dog
The B group - vitamins for nerve regeneration
The group of B vitamins plays an important role among the essential nutrients, because dogs and cats need them to maintain optimal function and regeneration of nerve cells and nerve fibres. All B vitamins must be taken in by dogs and cats through food. If a dog's diet is unbalanced and deficient in these important vitamins, this can lead to various nerve disorders in the long term.
Owners of older dogs often notice that their dogs show various symptoms of nervous disorders, such as impaired vision, abnormal movements, restlessness, nervousness, dementia or even incontinence. In old dogs, the nervous performance and the ability to regenerate decrease as a side effect of the ageing process, and it is precisely here that it is important to supply the dog's body with B vitamins.
Which vitamins belong to the B group?
The group of B vitamins includes several nutrients, each of which fulfils specific tasks in the dog's body. To give dog owners an overview of the individual functions of these essential nutrients, here is a detailed list of the individual vitamins of the B group and their functions and effects.
Vitamin B1
Vitamin B1 is needed to help the dog's body draw energy from the food it eats, which is then passed on to the nerve cells by this essential vitamin. This ensures that the cells of the nervous system are always supplied with a sufficient and constant amount of energy, which is absolutely necessary for their proper functioning.
Vitamin B2
Vitamin B2 is also actively involved in energy production in the dog's body; this nutrient is mainly needed for the metabolism of proteins, fats and carbohydrates. In addition, this vitamin is responsible for the maintenance of the optic nerve and thus the dog's vision. Puppies need vitamin B2 for optimal and healthy growth.
Vitamin B3
Vitamin B3 is generally required for the dog's metabolism and ensures that all metabolic processes in the animal's body take place at an ideal level. This also ensures that the dogs' nerve cells are constantly supplied with an optimal amount of energy.
Vitamin B5
Vitamin B5, pantothenic acid, activates and controls the dogs' nerve metabolism, which optimises the energy supply of the nerve cells and nerve fibres and regulates the growth processes of the puppies. In addition, this vitamin has a positive effect on the maximum stress tolerance of dogs.
Vitamin B6
Vitamin B6 is mainly needed for the protein metabolism of the dog. Without this vitamin, the dog's body cannot obtain energy from the proteins contained in the food. In addition, this nutrient ensures a constant release of this energy in the nerve cells.
Vitamin B12
The nutrient called vitamin B12 helps the dog's body to regularly produce red blood cells and also new nerve cells. Therefore, this vitamin is a very important nutrient for both nerve function and the general health of the dog.
Folic acid
The last vitamin B group is called folic acid and has the important task of building and maintaining cells. This function primarily relates to both the blood cells and the nerve cells of the dog.
Vitamin B deficiency symptoms in dogs
The following symptoms may become apparent in dogs:
&Overgrown hair
Flea allergies
Ingests fleas and ticks constantly
Flies bother him in summer
Dirty and or carious teeth
Motion sickness
Gain in weight and constipation
Hair loss
Prior greying
Poor response to vaccines
And anxious and stressed
Higher cholesterol
The B-complex vitamins work more efficiently when there is sufficient vitamin C in the dogs' diet, and both are crucial for protein and fat absorption. If your dog suffers from chronic ear problems, kidney, liver or metabolic disease, skin allergies, pigmentation changes, epilepsy or behavioural changes such as aggression, shyness, anxiety and fear, or an inability to think and act clearly, he may be deficient in B-complex vitamins.
Why B complex instead of vitamin B12?
The B vitamins can be purchased as individual components for dogs. It is possible to buy B-1, B6, B12 and so on. Many people use these vitamins without using the whole complex. None of these vitamins are found in nature. Foods that contain B vitamins contain several of them, and no food is known to contain them in isolation. So if you decide to feed extra B6 to your dog, for example, it should always be fed along with the complex powder. No part of the vitamin should be fed to your dog in isolation for longer than a month without re-evaluation.
Vitamin B complex for cats
B vitamins play a very important role in the life of every cat. These water-soluble nutrients are essential for cell metabolism, which is needed for proper growth, development and energy production. Since they are water soluble, they are not stored in the body but excreted in the urine. Consequently, deficiency can occur, especially in animals with überm;ly drinking and urinating due to diabetes, kidney disease and other health problems. Vitamin B deficiency can be difficult to diagnose. For this reason, diagnosis is based on clinical signs. Since many of the signs of a deficiency of a particular B vitamin overlap, a deficiency is typically treated with B-complex, since all B vitamins are relatively non-toxic.
Almost all home-cooked cat food recipes call for the addition of B-complexes, rather than adding each B vitamin individually. Remember that in a balanced homemade cat food recipe, the B-complex is added to supplement the vitamins already present in the meat and organs. The vitamin B complex usually, but not always, consists of eight b vitamins:
Vitamin B1 - Thiamine
B2 - riboflavin
B3 - niacin, niacinamide or inositol hexanicotinate
B5 - pantothenic acid
B6 - pyridoxine
B7 - Biotin
B9 - Folsäure
B12 - cyanocobalamin or methylcobalamin
Most products have inactive ingredients added as flavourings, binders and flow agents. Some may also contain other active ingredients such as vitamin C, choline, inositol - vitamin B8 or PABA - vitamin B10. Please note that the B-complex you use does not necessarily have to contain vitamins B8 and B10.
B vitamins can be found in animal and plant sources. Muscle meat, for example, is a good source of B3 and B5. Liver, on the other hand, is a good source of B2, B5, B7, B9 and B12. Adding just 4 per cent liver to your cat's raw meal will provide adequate amounts of all these nutrients. Thiamine is the only vitamin that is difficult to obtain in sufficient quantities from natural sources. It is also one of the most "sensitive" B vitamins, as it is easily destroyed by cooking/heating, by a neutral or alkaline environment, or by oxidation. The richest source of thiamine is nutritional yeast.
So if we don't want to use at least 2 per cent nutritional yeast in our homemade recipe, we need to add thiamine in some other form to prevent deficiency. The easiest way to do this is to use vitamin B complex.
Almost every vitamin B complex has a specific smell. Some cats like it, others are not so crazy about it. As the product ages, some ingredients begin to break down and the smell becomes stronger. To slow down this process, the vitamin B complex should be stored in a cool, dry place. However, if the smell becomes too strong, it may be time to buy a fresh product.
To minimise the loss of these water-liquid vitamins once they have been mixed with the meat, it is important to retain any liquids that come out of the meat, especially after freezing.
Conclusion
Vitamin B Complex is rightly a popular supplement for dogs and cats and offers numerous benefits. Vitamin Complex is rich in B vitamins (B1, B2, B3, B4, B5, B6, B7, B9, B12) which can be helpful in this respect:
Improvement of skin and coat
Improvement of nerve function
Supports digestion
Supports the muscles
Supports the metabolism